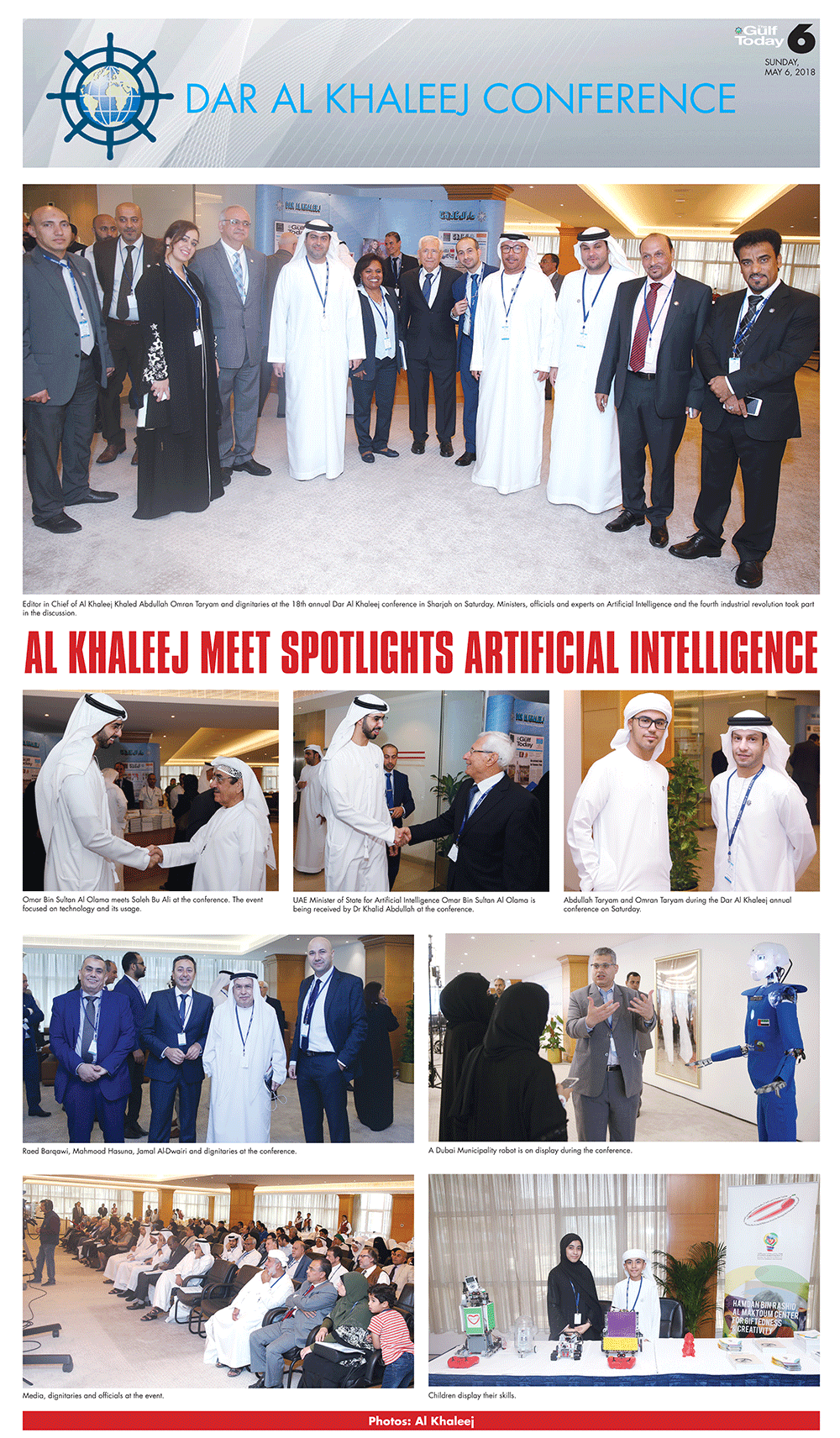 SHARJAH: The Minister of Tolerance, Sheikh Nahyan Bin Mubarak Al Nahyan, said that UAE's leaders strive to achieve a successful and prosperous future for the country, to keep abreast with the global developments in knowledge and technology, as well as to adopt the cutting-edge technology and practices in all spheres of life.
This came during the opening speech of the 18th edition of Dar Al Khaleej's Annual Conference that was held on Saturday under the title "Artificial Intelligence Strategy in the UAE", in the presence of Khalid Abdullah Taryam, Chairman of Dar Al Khaleej for Press, Printing and Publishing, and Dr Yousef Al Hassan, an Emirati writer and thinker.
"The conference's theme exactly reflects what the two late brothers (Taryam Omran Taryam and Dr. Abdullah Omran Taryam) were seeking to fulfill by enabling the community to be aware of the future developments and work hard to shape its features, so that the UAE will be able to contribute effectively to all the achievements global development," Sheikh Nahyan said.
"The conference's discussion of Artificial Intelligence in UAE embodies what we learned from the founding leader late Sheikh Zayed Bin Sultan Al Nahyan and his wisdom to use the latest in the world in terms of advanced systems and techniques. This approach has been continued under the leadership of President His Highness Sheikh Khalifa Bin Zayed Al Nahyan, His Highness Sheikh Mohammed Bin Rashid Al Maktoum, Vice President and Prime Minister of the UAE and Ruler of Dubai, His Highness Sheikh Mohamed Bin Zayed Al Nahyan, Crown Prince of Abu Dhabi and Deputy Supreme Commander of the UAE Armed Forces and Their Highnesses Rulers of the Emirates," Sheikh Nahyan said.
The Minister of Tolerance expressed his pleasure to see the Dar Al Khaleej, nearly 50 years after its foundation by Taryam and Abdullah Omran, to be fulfilling its national and prestigious role in make the UAE and the Arab nation a home for prosperity, peace and stability in the world.
He added, "The outstanding achievements of Dar Al Khaleej's founders in the media, and the legacy of a prestigious media school they left, are seen in the Taryam and Abdullah Omran Press Award"
He added,"The strategy of Artificial Intelligence in the UAE embodies its great interest in making the future. It has established a special Ministry to follow up on this strategy through a prudent and confident view from now until the UAE centennial in 2071."
"This national strategy emphasises the role of Artificial Intelligence techniques in supporting achievements in several fields such as raising efficiency in performance, achieving perfection in work, asserting ability to analyse all phenomena and variables and dealing with them intelligently and confidently," Sheikh Nahyan said.
He also explained that Artificial Intelligence aims to increase productivity and build national capacities in addition to creating an integrated national system to achieve all objectives, including the formation of the Artificial Intelligence Council.
"This strategy will also require new appropriate laws and legislation, updating curriculum and education programmes, coordination between the Ministries and community institutions, integration of Artificial Intelligence techniques in all aspects of life, conducting research and technology studies, and deepening channels of fruitful international cooperation with all," Sheikh Nahyan said.
He expressed confidence that the Ministry of Artificial Intelligence would be very successful in achieving all of aforementioned aspirations. "It embodies the UAE's determination to achieve its strategic goals and objectives in all sectors and fields towards a better life for all," Sheikh Nahyan said.
Defining Artifical Intelligence, the Minister of Tolerance said, " It is a field of computer science and engineering, which seeks to find smart devices that can simulate the mental abilities of human beings, do many tasks that humans do, and deal with different situations like humans as much as possible."
He added, "This simple definition of artificial intelligence explains what we are seeing now about the many benefits of these technologies on the one hand and the risks that may arise on the other. The benefits are clear. These devices rely on Artificial Intelligence. They will be more capable, more efficient, and faster in doing tasks in all areas of life. This will lead to a significant progress that may be accompanied by the elimination of wars, diseases, and poverty. It will also contribute to providing better services and restructuring human societies that will ensure peace and prosperity allover the world."